Summer Programs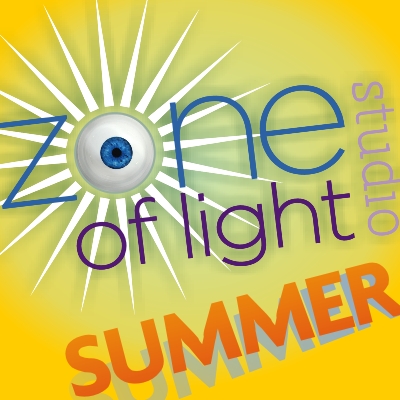 Come play, explore nature and create art at the ZONE this summer! Kids will enjoy quality art instruction as well as time to explore Zonolite's Nickelbottom Park's wooded trails, meadows and creek. The studio encourages every child to express themselves artistically with exciting daily activities, art projects, acting and improv, park playtime, organized games, books, and videos, all led by our talented team of artists and certified educators.
---

---

Summer fun at Zone of Light Studio

Create art, play games and explore the outdoors this summer at the Zone's art center and nearby nature preserve. Keep children active outdoors this summer where learning is fun at Zone of Light Studio's Summer Programs. Last year's programs received rave reviews from parents who love finding creative summer activities for their children – and Zone of Light Studio provides just that! Art, acting, movement, music and outdoor games are all geared for children ages 5 – 13 who are divided into three age groups for all activities.

This upbeat, imaginative art center, located in a large renovated warehouse space in the Floataway complex near Emory, NE Atlanta, encourages everyone to express their inner creativity. Instructors are experienced, enthusiastic, and love art and creativity as much as they love teaching kids. Kids enjoy hands-on art projects and exploring the great outdoors at the newly restored Zonolite Park's wooded trails, meadows, pond and creek. Zone of Light studio hires certified teachers, certified art teachers, and art students to run the art portion of the camp. Assistants have in the past included college students and high school students with experience working with children in formal settings.

Owner Amy Wilson is an arts enthusiast and a parent of three school-age children. A former DeKalb County teacher with curriculum and instruction specialty, her dream is to fill the gaps in art education programs. Ms. Wilson says, "We want to give children ways to tap into their own creativity and make learning hands-on and fun. We place joy first in the process!" The studio's innovative teaching approach garners high praise from parents who love seeing their children focus on creativity and the arts in a comfortable, interactive environment.

One parent says, "Zone of Light Studio offers high-quality, affordable art instruction. My three daughters and I have loved going to Friday art nights, birthday parties, school break and summer programs at the Zone. It is so refreshing to see kids just being kids − happily enjoying the creative activities and running around outside."



---

2017 Summer Programs


THEMES:

May 30-June 2

​Adventure Camp

Lead Instructors: Dean White, Tracy Matthews, Sarah Stewart

Enjoy a different exciting theme each day -- like Pirates, Star Wars, Harry Potter, Minecraft, Vikings, Medieval times… Every day is a new adventure!

​

June 5-9

YOU-topia

Lead Instructors: Dean White, Kelly Albright, Sonia Emore

Your New Land – Create a whole new land, just the way YOU want it (even on a different planet!) – create a name, map of your land, flag, unique flora and fauna, beautiful landscapes, language/alphabet, and populate with people (real or imagined) with a culture all their own – to bring

your

new land to life!

​

June 12-16

Green Planet

Lead Instructors: Dean White, Sarah Stewart, Sonia Emore

Here's how to make the world even more beautiful, while keeping it healthy. We will create amazing art using our own homemade paint, clay, paper, and recycled materials and planting our own creations to be part of this world!

June 19-23

Fantasy, Fairies

and Magical Places

Lead Instructors: Erin Warner, Jon-Erik Montgomery, Kelly Albright

This week we'll transform the Zone into a wondrous world of dragons, knights, unicorns, elves and fairies. Create and illustrate your own amazing storybook,

make a map of epic quests, learn to sculpt dragons, sketch mystical creatures and paint unicorns. It shall be a magical week!

June 26-30

Weird World

Lead Instructors: Dean White, Sarah Stewart, Erin Warner, Sonia Emore

​

Not into painting still-life and landscapes? If you're looking for something different, step into the world of weird art at the Zone! We will create non-traditional art using unusual materials and techniques – the crazier the better!

July 3-7 (4 day -- not July 4)

Olympic Week

Lead Instructors: Dean White, Sarah Stewart, Lydia Atubeh

The Games may be over in Rio – but we're always going for the gold at the Zone! Each day will feature Olympic-related art and activities. We'll play our own Zone Olympics, design "official" mascots, create Gold Medals and much more.

July 10-14

​Adventure Camp II

Lead Instructors: Dean White, Tracy Matthews,

Lydia Atubeh

July 17-21

YOU-topia II

Lead Instructors: Dean White, Erin Warner,

Lydia Atubeh

July 24-28

Green Planet II

Lead Instructors: Beth Deery, Tracy Matthews

July 31-Aug 4

Fantasy, Fairies

and Magical Places II

Lead Instructors: Dean White, Allie McClintock

Aug 7-11


Weird World II

Lead Instructors: Dean White, Allie McClintock
---
Is this your first time at the zone in 2017?
Please fill out a medical release form for each child when enrolling. The enrollment/registration form overs emergency contact information, a medical release, and a photo release. You only need to fill it out one time each calendar year and we will keep it on file.