2018 Summer Programs at Zone of Light Studio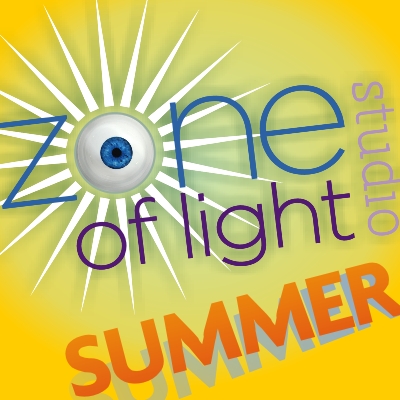 Come play, explore nature and create art at the ZONE this summer! Kids will enjoy quality art instruction as well as time to explore Zonolite's Nickelbottom Park's wooded trails, meadows and creek. The studio encourages every child to express themselves artistically with exciting daily activities, art projects, acting and improv, park playtime, organized games, books, and videos, all led by our talented team of artists and certified educators.
---

---

Summer fun at Zone of Light Studio

Create art, play games and explore the outdoors this summer at the Zone's art center and nearby nature preserve.
Keep children active outdoors this summer where learning is fun at Zone of Light Studio's Summer Programs.
​Last year's programs received rave reviews from parents who love finding creative summer activities for their children – and Zone of Light Studio provides just that! Art, acting, movement, music and outdoor games are all geared for children ages 5 – 15, who are divided into separate age groups for all activities.

This upbeat, imaginative art center, located in a large renovated warehouse space in the Floataway complex near Emory, NE Atlanta, encourages everyone to express their inner creativity. Instructors are experienced, enthusiastic, and love art and creativity as much as they love teaching kids. Kids enjoy hands-on art projects and exploring the great outdoors at the newly restored Zonolite Park's wooded trails, meadows, pond and creek. Zone of Light studio hires certified teachers, certified art teachers, and art students to run the art portion of the camp. Assistants have in the past included college students and high school students with experience working with children in formal settings.

Owner Amy Wilson is an arts enthusiast and a parent of three school-age children. A former DeKalb County teacher with curriculum and instruction specialty, her dream is to fill the gaps in art education programs. Ms. Wilson says, "We want to give children ways to tap into their own creativity and make learning hands-on and fun. We place joy first in the process!" The studio's innovative teaching approach garners high praise from parents who love seeing their children focus on creativity and the arts in a comfortable, interactive environment.

One parent says, "Zone of Light Studio offers high-quality, affordable art instruction. My three daughters and I have loved going to Friday art nights, birthday parties, school break and summer programs at the Zone. It is so refreshing to see kids just being kids − happily enjoying the creative activities and running around outside."



---

2018 Summer Programs (Registration now open!)
These programs are ​for ages 5-15


THEMES:

May 29-June 1

​Lost in the Art Museum

Lead Instructors: Dean White, TBD

An art museum is a magical place; each room can be completely different – it's like traveling to a different country, or stepping back in time, or becoming lost inside the colorful imagination of some creative genius. Each day this week we will explore a different "room" of our imaginary museum and create our own art before moving on. In the end, you'll find your way out – but may never want to leave!

​

June 4-8

Camp Enigma

Lead Instructors: Dean White, TBD

What is Camp Enigma all about? It's a

mystery

! We will explore great historical mysteries; create art with hidden meanings and secret surprises; we'll make our own puzzles and explore optical illusions and magical art that is more than it appears. How will we do it? It's a secret – but we know your child will love it.

​

June 11-15

The Storyteller's Enchanted Forest

Lead Instructors: Dean White, TBD

The library is packed with amazing stories of adventure and discovery. Their words have filled our minds with dragons & unicorns, wizards & castles, and robots & rocket ships. For centuries, fine artists and illustrators have tried to capture these images – and now it's your chance! We'll share our favorite tales, create pictures for them, and make our own book. It's time to open a new chapter in your storybook life…

June 18-22

Dream Cruise Around the World

Lead Instructors: Erin Warner, TBD

All aboard the SS ZoneofLight! It may be a small world after all, but the art world is huge, vibrant and ever-expanding. Each day we'll sail into a marvelous art "port" from different cultures around the globe. It's your passport to new lands and creative kinship!

June 25-29

Twilight Zone (of Light)

Lead Instructors: Dean White, TBD

"You are about to enter another dimension, a dimension not only of light and sound but of mind. A journey into a wondrous land whose boundaries are that of imagination. That's the signpost up ahead – your next stop, the Twilight Zone (of Light)!"

Not into painting the same old still-lifes and landscapes? If you're looking for something different, step into the alternative art dimension at the Zone! We will create non-traditional art and explore Trompe l'oeil, surrealism, Peter Max, Bosch, Escher, Dali, Magritte and more!

July 2-6 (4 day -- not July 4)

All-American Artists

Lead Instructors: Dean White, TBD

Independence Day returns this week, so to celebrate we'll look at amazing artists from around the United States over the last over two hundred years – including Native Americans, early Masters, contemporary artists, and the superstars of tomorrow. We'll explore how they got into art, what makes their art special, and try to emulate their styles and techniques, to get to know them – and our country – even better!

July 9-13

​Lost in the Art Museum II

Lead Instructors: Dean White, TBD

July 16-20

Camp Enigma II

Lead Instructors: Dean White, TBD

July 23-27

The Storyteller's Enchanted Forest II

Lead Instructors: Erin Warner, TBD

July 30-Aug 3

Dream Cruise Around the World II

Lead Instructors: Dean White, TBD

Aug 6-10

Twilight Zone (of Light) II

Lead Instructors: Dean White, TBD
---
Is this your first time at the Zone in 2018?
Please fill out a medical release form for each child when enrolling. The enrollment/registration form overs emergency contact information, a medical release, and a photo release. You only need to fill it out one time each calendar year and we will keep it on file.